Discover the top 5 dispensaries in Nevada, where cannabis enthusiasts can find exceptional products and knowledgeable staff. From a wide variety of strains to edibles, concentrates, and CBD products, these dispensaries offer a diverse selection to cater to every preference. Step into a world of quality and explore these premier dispensaries for an unforgettable cannabis experience in Nevada.
Jardín Premium Cannabis Dispensary
Regarded as one of Las Vegas' finest cannabis establishments, Jardín Premium Cannabis Dispensary is a stunning world-class dispensary that offers impeccable customer service and a wide array of high-quality cannabis products for medical patients and adult recreational users. Jardín – "garden" in Spanish – was designed to be a destination and to elevate the dispensary experience by offering a unique luxury environment, while at the same time creating an inclusive and welcoming environment for our diverse clientele. The authenticity and warmth of our highly trained team members has made Jardín a draw for locals, tourists and celebrities alike.
Wallflower House
Wallflower Cannabis House is a licensed medical and recreational weed dispensary in Las Vegas. We sell edibles, prerolls, topicals, concentrates, vape products, marijuana flower and all things weed. Walk into our store and experience what the renovated Wallflower Cannabis House has to offer. Chat up with our budtenders, browse our varied collection and find the right kind of chill for you.
Inyo Las Vegas Dispensary
Inyo is the best Las Vegas dispensary. We collaborate with some of Nevada's top cultivators to provide our customers with good quality cannabis products matched with friendly, helpful, and educated staff. Inyo Fine Cannabis Dispensary offers a wide variety of cannabis products and offers top quality cannabis treatment to improve our clients' quality of life.
Green Cannabis Co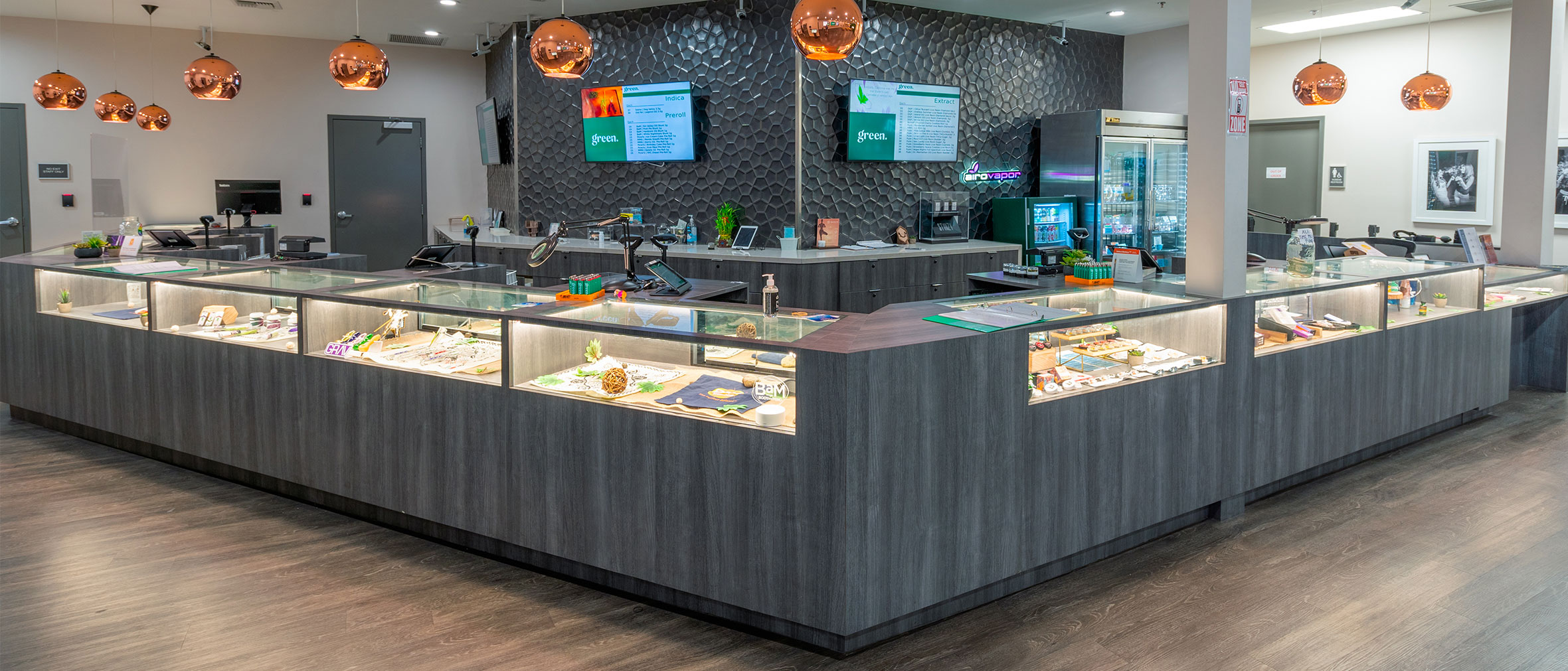 "An exceptional cannabis experience is achieved by prioritizing what matters most – our customer's time, comfort, privacy, and product satisfaction." Green prides itself on the most fundamental service that a dispensary can provide. That is, providing the highest quality cannabis to our customers. The green team has grown with the Las Vegas cannabis industry since its inception, working closely beside all the brands that make up our beautiful industry. For that reason, the Green team meticulously selects only the highest quality brands and products to fill their award winning menu.
Pisos
Pisos is known historically to mean "healing", which is exactly what Pisos – Las Vegas provides its customers and patients. Pisos' mission is straightforward, to bring the absolute best marijuana products and selection to our patients. Pisos offers Las Vegas top-rated strains of cannabis and caring, knowledgeable dispensary staff. Every customer that walked through the door of Pisos – Las Vegas is given the best experience from our well-versed, cannabis conscious staff.